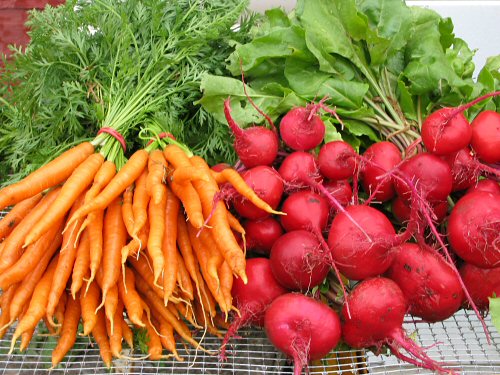 Looking for a good dish to make with fresh country vegetables to rejuvenate after Sat Nam Fest (Spirit Fest), I came across this yummy recipe on Anne Novak's website.  Giving me the vegan options I need, I can make a delicious casserole that's good for my liver AND my taste buds!  Check out all of the recipes on Anne Novak's website!
Anne Novak's Beet and Carrot Casserole
A tasty dish for liver health
I bunch beets
1 lb. carrots
2 bunches scallions, chopped
3 cloves garlic, minced
4 -6 Tbs. olive oil, ghee (clarified butter), butter or coconut oil
Braggs Liquid Aminos and Black Pepper to taste
grated soy cheese or cheddar cheese to taste
Scrub beets and carrots. Steam beets whole. After about 15 minutes, add carrots. Cook until tender yet firm. Remove beet skins. Grate beets and carrots with a coarse grinder. Loosely mix together. Saute scallions and garlic. Toss this mixture together with the beets and carrots, Braggs and black pepper and put in a casserole dish. Cover with grated cheese and bake at 350 degrees just until cheese is golden.